Support Resources
You are not alone in your grief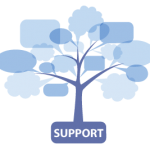 Whether you are newly bereaved or further down your path of healing, there are many helpful grief support resources. Here are just a few of them. You can also browse our Living With Grief page for perspectives on how people deal with different aspects of grief.
The Compassionate Friends Offers friendship, understanding, and hope to bereaved parents, siblings and grandparents.
Open to Hope Finding hope after loss. Dealing with death, grief, loss, bereavement.
Grief Healing A place to acknowledge and honor you as a person in mourning, to help you make some sense out of what you may be feeling, to prepare you for what to expect in grief, and to help you find meaning, growth, and healing along the way.
Hello Grief A place to share and learn about Grief and Loss.
M.I.S.S. Foundation An international nonprofit organization which provides immediate and ongoing support to grieving families.
Grief and Loss | Scoop.it In Memory of my deeply loved son, Graham Louis de Wit : websites and blogs about grief and loss of a child.
Translating Grief Learning to interpret your personal grief journey
San Francisco Bay Area Support Organizations
Josie's Place Josie's Place provides facilitated peer-support groups to children and teens in the San Francisco Bay Area who are grieving the death of a parent, sibling, close relative or friend.
Kara Kara provides compassionate support to people of all ages on their journey through grief so that they can move toward renewed hope and meaning.
If you have others you'd like to suggest, please Contact Us.